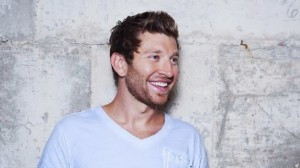 Brett Eldredge led his fans on a karaoke tour of downtown Nashville Monday night. He tweeted his fans that afternoon to meet on Music Row, and hundreds of people showed up to head down to Lonnie's Karaoke Bar in Printer's Alley. Brett led the group on to Troubadour's karaoke bar on Lower Broadway later in the night.

In a YouTube interview, Brett explained he just wanted to get people together to enjoy some music. He went on to say his favorite karaoke song is "Neon Moon" by Brooks & Dunn. He ended up performing Tim McGraw's "Please Remember Me," Steve Miller Band's "The Joker" and the Jessie J/Ariana Grande/Nicki Minaj pop hit "Bang Bang," as well as his own #1 hit "Don't Ya."

Once the night came to a close, Brett tweeted his fans, "I am so completely blown away by tonight! Thank you Nashville for flooding the karaoke bars and making it a night I'll never forget!"

Brett is a semi-finalist for the ACM New Artist of the Year trophy. The final three nominees will be revealed in the coming weeks, and the winner will be announced on the 50th Annual ACM Awards airing live from North Texas on Sunday, April 19 at 8 p.m. ET on CBS.


Copyright © 2015, ABC Radio. All rights reserved.