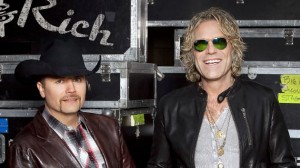 Big & Rich made a guest appearance on ABC's The Bachelor Monday night. The duo helped this season's farmer bachelor, Chris Soules, and the bachelorettes write and perform songs during a group date in Deadwood, South Dakota. While his wife is a big fan of The Bachelor, Big & Rich's John Rich admits he was a little skeptical about watching a bunch of pretty women compete for one guy's hand in marriage. Meeting Chris and taking part in the taping changed John's tune, though.
He tells ABC News Radio, "It was an interesting process. I definitely gained more of an appreciation for the show by being on it and seeing how it goes down."
Taping the episode of The Bachelor in Deadwood was also Big & Rich's idea. They've written a lot of music there and consider the Wild West town to be a home away from home.
"I mean, that's where Wild Bill Hickok and Calamity Jane played cards," John explains. "That's where they're both buried. When you get out in that town, man, I mean it's drinking and gambling. It's the Wild West. To throw all the girls on The Bachelor into that scene — that's gasoline on a fire."
Later on the show, Big & Rich played two songs for the bachelor and one of his bachelorettes, Britt. The set included Big & Rich's signature song, "Save a Horse (Ride a Cowboy)," which they sang as "Save a Horse (Ride a Farm Boy)" in honor of Chris.
John says, "That song has become kind of Big & Rich's 'Sweet Home Alabama.' When we hit [that opening guitar riff] everybody just — they know what it is. We could probably be a hundred years old and play that and they would still get up."
The other song on Big & Rich's The Bachelor set list is "Lovin' Lately," a song featuring Tim McGraw from the duo's latest album, Gravity.
"They asked us to play that one because of the subject matter of the show," John says. "'Who You Been Lovin' Lately?' No kidding! I mean, you're 'The Bachelor' with 20 hot girls around. So, it was fun."
In other Big & Rich news, look for their four-part Gravity Quadrilogy to premiere on CMT this Saturday morning at 6 a.m. ET and 8 a.m. ET. The 15-minute video shows a love story unfolding in Las Vegas using their songs "Look at You," "Lovin' Lately, "Brand New Buzz" and "Gravity" as the soundtrack. Tim McGraw even makes a cameo in the video series, playing a bartender giving some advice to a heartbroken guy.

Copyright © 2015, ABC Radio. All rights reserved.