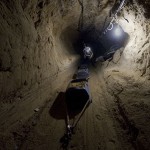 (JERSUSALEM) — The remains of a cross-border tunnel discovered during Operation Protective Edge last summer was cleared away on Monday by the Israeli army.

Special units detonated explosives inside the tunnel, closing its opening onto the Nacal Oz area of Israel, where Hamas launched deadly raids during the recent conflict.

Military officials said on Monday that troops never entered Gaza, and that the tunnel posed no threat because the section which reached inside the Strip had already been destroyed.

Hamas' military wing openly has announced it is rebuilding its tunnels, and among other measures, Israeli is testing new technologies in the field to detect tunnel activity deep underground.


Copyright © 2015, ABC Radio. All rights reserved.