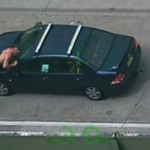 BRISBANE, Australia) — Extraordinary video emerged Monday showing the chaotic moment two men — at least one of them armed with a handgun — fled their vehicle following a high-speed car chase and sprinted into oncoming freeway traffic.
The car chase started in Brisbane and ended nearly 100 miles away in New South Wales when their stolen car, a blue Mitsubishi Lancer, ran into road spikes, authorities said.
The men, one clad in shorts and the other in pants, can be seen weaving through traffic and appeared to open fire on at least one car on the freeway, and allegedly fired at the police, authorities said. One of the men can be seen pointing a gun directly at an oncoming car, but the driver plowed past and the man flew off the windshield, his gun sliding across the roadway.
Police said the two men will face charges for attempted murder and carjacking at least three cars.

Copyright © 2015, ABC Radio. All rights reserved.