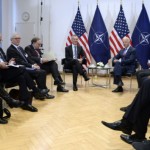 (MUNICH) — A number of world leaders gathered in Munich Saturday to discuss their hopes for a peaceful solution to tensions between Ukraine and Russia.
NATO Secretary General Jens Stoletenberg opened the Munich Security Conference on Friday with a speech calling "a strong NATO…essential if we are to engage Russia with confidence." He also noted that "a constructive NATO-Russia relationship would benefit the Euro-Atlantic community."
Among the leaders gathered on Saturday was Vice President Joe Biden, who called on Russian President Vladimir Putin to "make a simple stark choice: get out of Ukraine or face continued isolation and growing economic costs at home."
"President Putin has to understand that as he has changed, so has our focus," Biden continued. "We have moved from resetting this important relationship to reasserting the fundamental bedrock principles on which European freedom and stability rest." Biden also called for the international community to "remain resolute and united in our support of Ukraine."
"Don't tell us, show us," Biden said after the Russian president said he did not want war and wants to cooperate with other world leaders.
"Too many times, President Putin has promised peace and delivered tanks and troops and weapons. So we will continue to provide Ukraine with security assistance, not to encourage war, but to allow Ukraine to defend itself," Biden said.
Biden also stressed the importance of NATO and chided member states to live up to their commitments to spend 2 percent of GDP on defense.
"It doesn't fund itself," Biden said of funding. "Ask my Senate colleagues and my House colleagues. Every NATO country needs to meet its commitment … I realize not all can do it now."
German Chancellor Angela Merkel was also at the conference. She reaffirmed her belief that military means to dealing with the tense situation will only lead to more victims.
Earlier this week, Merkel and French President Francois Hollande met separately with both Putin and Ukrainian President Petro Poroshenko in the hopes of reaching an agreeable deal to end the fighting.

Copyright © 2015, ABC Radio. All rights reserved.