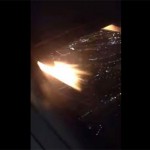 (BOGOTA, Colombia) — Dramatic video has emerged of a fiery engine blaze earlier this week that forced a passenger plane in Colombia to make an emergency landing.
From a passenger window, flames can be seeing flying out the engine, rather dangerously.
Credit: YouTube/Jorge Arbeláez
The VivaColombia plane returned to its origin of departure — El Dorado airport in Bogotá, Colombia — making a safe landing, according to local reports.

Copyright © 2015, ABC Radio. All rights reserved.