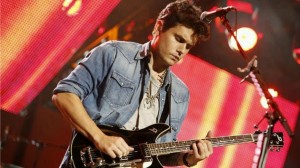 John Mayer guest-hosted the CBS' Late Late Show for the second-straight night Thursday and he opened the show by poking fun at his past as a ladies man, joking, "I'm entering a new phase of my life…I used to be known as a bit of a womanizer, but I changed my ways."
When one woman in the audience apparently expressed disappointment at the news, Mayer asked, "What, were you waiting to meet me?" The singer then went on to say, "I've got this all wrong now, because everybody wants me to be back in the game…and that's always the way it is: once you leave the game, the players show up."
Mayer quipped that he doesn't "even like the word womanizer," joking, "I prefer the term 'serial promise remover.'"
The singer then went on to admit that back in his "dirty dog days," he needed a "Clear History button" for his entire house, adding, "It was called my doorbell."
Mayer welcomed comedian Bob Saget, 24 actress and stand-up comic Mary Lynn Rajskub — who professed to loving Mayer, and eventually falling for a guy who looked like a "better-looking version" of the singer. She performed a song about her crush on John, and how it led to her being a mom.
Speaking of songs, Mayer also welcomed Bob Weir of the Grateful Dead, a band to which the newly-minted chat show host admitted to being a late "convert," and which he discovered while on vocal rest following his throat surgery.
Mayer is also hosting Friday's edition of the Late Late Show with guest Ed Sheeran.