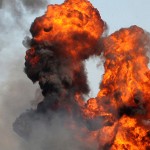 (NEW YORK) — The terror group ISIS released a statement Friday claiming that a female American hostage the group had been holding was killed in a coalition airstrike recently.
The statement, which circulated on Twitter, said a Jordanian airstrike outside Raqqa, Syria killed the woman, believed to be a 26-year-old American aid worker.
The claim could not be immediately confirmed and ISIS did not provide photographic evidence of the woman's death, as the group has in the past with other hostages and its own fighters. ISIS did use the woman's full name, which has not been made public.
A White House National Security Council spokesperson said they're aware of the claim, but had no immediate comment.

Copyright © 2015, ABC Radio. All rights reserved.