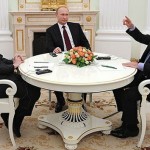 (KIEV, Ukraine) — Ukrainian President Petro Poroshenko met with German Chancellor Angela Merkel and French President Francois Hollande on Thursday in an effort to come up with a plan to implement an end to tensions and fighting involving Russian-supported forces in eastern Ukraine.
According to a statement from Poroshenko's office, all three parties called for "the immediate ceasefire, withdrawal of foreign troops from Ukraine, pullback of heavy armament, border closure and liberation of all hostages." Merkel and Hollande, as well as the U.S. have shown support for months for a peaceful resolution to the conflict involving Ukraine and Russia.
Merkel and Hollande traveled to Moscow on Friday to present their proposal to Russian President Vladimir Putin, though it was unclear whether a breakthrough would be reached.
The two sides agreed to a cease-fire in negotiations at Minsk, but that agreement has not been honored, Ukraine says.
On Friday, the Ukrainian government and pro-Russian rebels agreed to a nine hour humanitarian truce on Friday and ten more hours Saturday to allow civilians to evacuate the city of Debaltseve. The United Nations reported Friday that the fighting in the region has displaced nearly one million people within Ukraine.

Copyright © 2015, ABC Radio. All rights reserved.