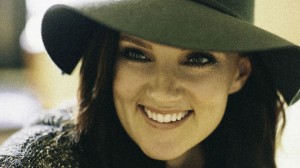 Brandy Clark spends a lot of time on planes lately, so it's no surprise she found out about her two Grammy nominations while passing through multiple airports. Brandy was flying from Nashville to New Mexico for a concert the morning the Grammy nominees were announced. After getting through airport security, Brandy got a text from her publicist telling her she'd received a Best Country Album nomination for 12 Stories.
Brandy tells ABC News Radio, "I opened it and there's a picture of the Best Country Album nominations and 12 Stories is right in the middle, and I started shaking and crying. I just was overwhelmed, and it was so great because I wasn't expecting it."
Once she landed in Dallas to change planes, Brandy turned her phone on to find more than 90 text messages. One text from her songwriter friend, Jessie Jo Dillon, stood out because it was all capital letters.
"I clicked on hers, and it was, 'Holy…' a whole bunch of [expletives], 'You've been nominated for Best New Artist over all genres,'" Brandy recalls. "And I thought, 'She's wrong about that. That's not correct. She's confused.'"
Another text from her publicist confirmed Brandy was nominated against the likes of Sam Smith and Iggy Azalea for Best New Artist.
As for the Best Country Album nod, Brandy adds, "I believe in 12 Stories so much and believe it deserves the recognition of that nomination. I know that probably sounds arrogant, but I really just believe it is in the top five country albums. I'm not saying I think it's number one, but I think it deserves to be in that pool."
Brandy will perform with Dwight Yoakam on the Grammy Awards Sunday night at 8 ET on CBS.
In other Brandy news, she has co-written a new musical with her frequent collaborator Shane McAnally, loosely based on the classic TV series, Hee Haw. Moonshine: That Hee Haw Musical is a musical comedy, and it's set to premiere at the Dallas Theater Center in Texas on September 2 and run through October 11. For more information, go to DallasTheaterCenter.org.

Copyright © 2015, ABC Radio. All rights reserved.