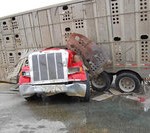 The Stanton County Sheriff's office is continuing to investigate a crash between to semis Wednesday morning.
The accident occurred when a westbound semi pulling a load of pigs that was struck by a southbound semi and trailer hauling grain. 55 year old Mark Hyatt of Norfolk was taken to the hospital for treatment while 39 year old Scott Brester of Howells declined medical treatment on scene.
The scene of the accident at the Hwy 15 and Hwy 32 intersection was closed for a portion of Wednesday for cleanup.