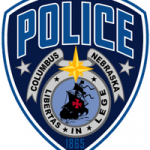 Two men have been arrested for fleeing Columbus Police.
Early Tuesday morning Police attempted to pull over a 1994 Dodge pickup when the driver and passenger fled the scene on a short pursuit before Deputies where able to make the arrest. The Driver, 27 year old William Davis of Columbus, was arrested for Flight to Avoid Arrest, Willful Reckless Driving and Speeding.
The passenger, 49 year old Roy Byrd of Texas was arrested with charges of Assaulting a Police Officer and Resisting Arrest, as well as for 2 outstanding Texas warrants.