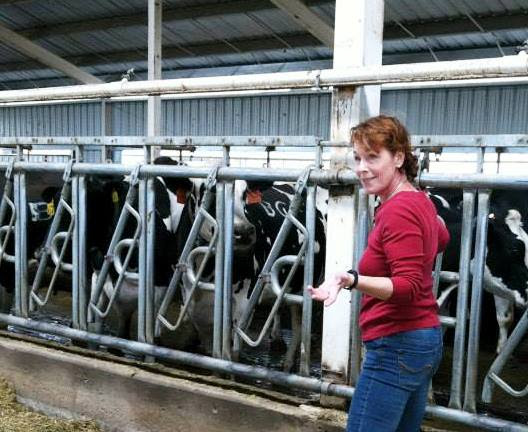 This month, CommonGround Colorado launched a series of farm tours for dieticians, nutritionists, mommy bloggers and media. The first tour, on May 17, visited CommonGround volunteer Mary Kraft's Quail Ridge and Badger Creek dairy farms. Over the afternoon, attendees saw Kraft's kitchen, where she mixes feed for her herd of 5,500 cows, as well as the milking and nursery facilities.
During the tour, Kraft addressed questions from the group using analogies to off farm life to which they could easily relate. Explaining the technology used to monitor each cow, thus ensuring it receives the highest quality care, Kraft asked them to think of it as a necklace that works like popular fitness bands than record health and activity information.
Attendees asked a variety of insightful questions about dairy farming and common production practices. Already highly informed on human dietary and health issues, they examined the diets of dairy cows, operation size and the challenges facing dairy farmers such as Kraft. The group enjoyed an unplanned bonus as they were able to watch an actual calf birth.
In a follow up email, Ask the Dietitian® Blogger and Registered Dietician Joanne Larsen said, "We learned lots from this experience. I look forward to uploading some of my photos to my Ask the Dietitian Facebook page. Also, I will be adding social media about #QuailRidgeDairy and #CommonGround today. I want to share the story of how humanely and thoughtfully cows are cared for on Quail Ridge and talk about cow technology."
The next tour will be June 21, when attendees will see CommonGround Colorado volunteer Cindy Frasier's Red Angus cattle ranch. In August, a tour of volunteer Sondra Pierce's operation growing a variety of crops on Boulder County Open Space will highlight irrigation, harvest practices and the farming and water situations unique to the state.