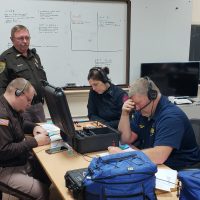 GRAND ISLAND- The Nebraska State Patrol hosted a crisis negotiator training event for several agencies in south central Nebraska Wednesday.
The exercise was put on with assistance from Clay County law enforcement. The event involved representatives from the Harvard Police Department, Sutton Police Department, Clay County Sheriff's Office, and Clay County Emergency Management.
Students from Hastings College volunteered to assist and played the parts of hostages and hostage takers.