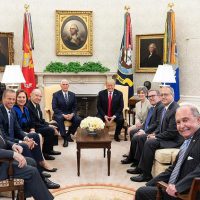 COUNCIL BLUFF, IA- President Donald Trump has announced that he has directed the EPA to initiate a rulemaking allowing for E-15 to be sold year-round.
President Trump made the announcement at a rally in Council Bluffs Tuesday night. Senator Deb Fischer shared her support of the ruling stating that the sale of E-15 year round is a big deal for Nebraska farmers, renewable fuel producers, and rural communities.
Nebraska Farm Bureau President Steve Nelson said the expanded sale of E15 ethanol will not only benefit Nebraska farmers, but the state's economy, and consumers looking for greater access to cleaner burning, homegrown biofuels.