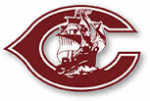 In yesterday's girls' tennis Class A state tournament, Columbus High coach Dave Licari praised all of his girls for playing good tennis.
In #2 singles, Natalie Brutty won her first match before losing in her second match.  The Discoverers' #1 doubles team of Regi Zakrzewski and Sara Kruse also saw their season end with a loss after an opening match victory.
Lauren Benck lost her first match in #1 singles, while Monykka Hazlett and Mia Janssen also dropped their opener in #2 doubles.