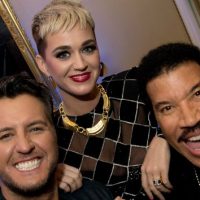 ABC/Image Group LAABC's reboot of American Idol premieres Sunday night at 8 p.m. ET. So what's different? Judge Katy Perry says you shouldn't expect her and judges Lionel Richie and Luke Bryan to go all Simon Cowell on the contestants.
"No one's here to say 'You suck'…put anyone down, shame them or anything like that," Katy tells ABC News. "That's archaic. That's not how we're operating. I take it very seriously…It's not just a TV show for me, it's a real competition."
"I really wanna find and elevate a person, a star, and help…mold them and give them whatever kind of mentorship they need," she adds.
American Idol is returning to a show biz landscape where there are more ways than ever to get one's music heard. So why do we still need it? Because, says Katy, the show is able to curate the best new artists and give you the best of the best.
"I think American Idol is actually an incredible platform to launch on now because there are too many platforms…too many voices," she explains. "There is so much…that you're like, 'I don't know what song came out when, and what I should I listen to, and who is the new artist and I'm very overwhelmed, so please, American Idol, just tell me who I should li[sten to]!"
According to Katy, that makes the show "an incredible way to sift through it all and see a great star and listen to their story…and grow with them and watch them become an American Idol."
Katy says she's excited to participate in that process.
"It's a blessing, it's like winning the frickin' lottery!" Katy says of the show. "And we get to give them the ticket!"
Copyright © 2018, ABC Radio. All rights reserved.