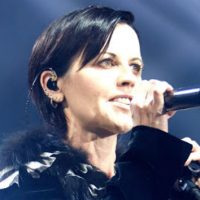 Credit: Andy EarlAfter their lead singer Dolores O'Riordan died unexpectedly in January, The Cranberries are now planning to honor her through their music.
The Irish band's 1993 debut Everybody Else Is Doing It So Why Can't We?, featuring the singles "Linger" and "Dreams," celebrated its 25th anniversary on March 1. The band had planned to reissue it this month in honor of that milestone, but put the project on hold after O'Riordan's death. But now, in a statement posted to their website, the surviving Cranberries reveal that they plan to release the reissue later this year.
"After much consideration we have decided to finish what we started," the statement reads. "We thought about it and decided that as this is something that we started as a band, with Dolores, we should push ahead and finish it."
In addition to the reissue, The Cranberries had also been working on a brand new album prior to O'Riordan's death. Since Dolores had finished recording her vocals for the album, the band plans to finish and release it "early next year."
The Cranberries' most recent release was the 2017 album Something Else, which featured re-worked versions of many of the band's biggest songs, as well as three new tracks.
Copyright © 2018, ABC Radio. All rights reserved.