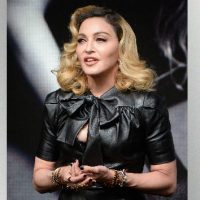 Kevin Mazur/Getty Images for MDNA SKINMadonna and Kim Kardashian are two of the most famous women in the world, and when they came together on Tuesday for a beauty event, they revealed that, surprisingly, they go way back.
People reports that Madonna and Kim met up at an event at Los Angeles' YouTube space to discuss Madge's MDNA skin care line, and Kim's KKW Beauty makeup line. The discussion turned to when they first met each other, and the audience learned that when Kim was just a kid, Madonna actually lived next door to her.
"[Madonna]…moved in with her manager who happened to be our next door neighbor growing up," Kim explained. "So Kourtney and I…our parents were good friends with her manager…so we'd walk their dog after school. So every day we would go over and we would see Madonna. Like, we were shaking!"
Kim recalled the special gift Madonna gave her and Kourtney one day.
"I remember so vividly her coming in one day in ripped jeans and a white t-shirt and these combat boots and she had dark short hair and this leather jacket and she just walked in and she was like, 'You know what, girls? I'm over these bracelets,'" Kim revealed. "And she took off her bracelets and gave us these black rubber bracelets."
"She gave us all of these neon bracelets and was like, 'Wait I'll be right back,' and gave us this whole shoe box of all of this neon jewelry and earrings," added Kim. Of course, she said, none of the kids at school believed that Madonna gave them their new accessories.
Madonna, meanwhile, said she was "so stupid" to give Kim and Kourtney those gifts, noting, "They don't make those bracelets anymore!"
To which Kim replied, "I'll find them, I'll find them!"
Copyright © 2018, ABC Radio. All rights reserved.