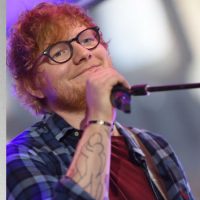 ABC/Paula LoboEd Sheeran's hits "Perfect" and "Thinking Out Loud" have become wedding-day favorites for many couples, but don't expect Ed himself to perform them at his own upcoming wedding to fiance Cherry Seaborn. Ed claims he doesn't much like the idea.
In an interview with Australia's Kyle & Jackie O radio show, Ed was asked if he'd perform his romantic hits at his upcoming nuptials, and he responded, "Ah…I think it'd be a little bit weird."
Ed also addressed those rumors that he and Cherry had wed in secret. The rumors started when Ed was spotted wearing a silver band on his left hand, but he says there are two reasons why he's wearing it.
"We didn't get secretly married, no," he told Kyle and Jackie. "She made me this ring out of silver clay so we're just kinda both wearing rings."
He added, "But it also means that no one will know when we have got married!"
Right now, there's no information as to when Ed and Cherry plan to tie the knot, though there are reports that the singer is building chapel on his property in the U.K. to use for that express purpose.
Copyright © 2018, ABC Radio. All rights reserved.