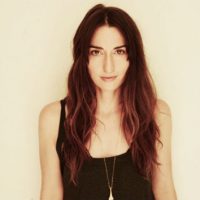 Shervin Lainez Sara Bareilles has been crafting pop hits since 2007, but now, 11 years into her career, she's receiving a prestigious award honoring young songwriters.
Sara will receive the Hal David Starlight Award June 14, at this year's Songwriters Hall of Fame Annual Induction and Awards Dinner. It was created in 2004 to honor "gifted young songwriters who are making a significant impact in the music industry via their original songs."
Sara's friend Jason Mraz, who recently co-starred with her in her Broadway musical Waitress, is a past recipient of the award, as are Ed Sheeran, Alicia Keys, Taylor Swift, John Legend, John Mayer, Rob Thomas, Nate Ruess of fun., Dan Reynolds of Imagine Dragons and the Goo Goo Dolls' John Rzeznik.
In a statement, legendary songwriters and producers Kenneth Gamble and Leon Huff called Sara "a force to be reckoned with," adding, "From her self-described 'piano-based pop soul' sound to her tremendous success with her long-running Broadway show Waitress, Sara has been a pioneer, forging new ground as a singer-songwriter with every step in her career."
Sara will next be seen as Mary Magdalene opposite John Legend's Jesus in NBC's upcoming presentation Jesus Christ Superstar Live in Concert on April 1.
Copyright © 2018, ABC Radio. All rights reserved.