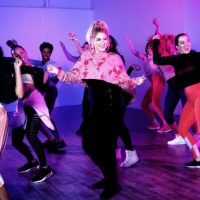 PRNewsfoto/Zumba FitnessNever tried Zumba? Now you have "No Excuses."
Meghan Trainor has teamed up with the dance-fitness company to launch new choreography set to her latest single, "No Excuses."
The singer, who's recently upped her health and fitness game, also becomes the first recording artist to star in an official Zumba choreography video.
"I always hear my music playing in Zumba classes when I'm at the gym so I thought—let's reach out to Zumba and create something special for 'No Excuses,'" Meghan says in a statement.
She adds, "We both believe in empowerment! I want this choreography to empower everyone out there to get on their feet, and I want them to think about respect and sassiness and loving yourself."
Starting today, you can dance the "No Excuses" choreography in a Zumba class near you.
Copyright © 2018, ABC Radio. All rights reserved.