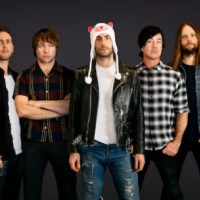 Travis SchneiderThere aren't many bands that are still scoring hits more than 15 years after their initial success, and few are as successful as Maroon 5. Thanks to their latest single, "Wait," Adam Levine and the guys have just notched their 20th top-40 hit on the Billboard Hot 100. In the time since the band had their first one, 2003's "Harder to Breathe," no other band has scored that many.
As Billboard notes, the only non-solo act that's had more top-40 hits since 2003 is the cast of Glee, who've had 51. That's mainly because the show ran for six years, and during those six years, the cast released a bunch of new songs every week.
So why has Maroon 5 been able to continue to rack up hits, a full 15 years after their breakthrough album, Songs About Jane? Guitarist James Valentine thinks one reason is because they've literally outlasted most of the other groups who were around back then.
"I think we're really lucky that we've been able to stay together all these years," he tells ABC Radio. "I think that's been one of our biggest assets, just the fact that we've stuck around — bands usually break up, for a multitude of reasons. And I think if you stay together as long as we have, then good things happen."
The only groups who've come close to Maroon 5's success since 2003 have been The Black Eyed Peas and Coldplay. In that same time period, they've each had 14 top 40 hits, so they still have a ways to go to catch up with Maroon 5.
"Wait" is the latest hit from Maroon 5's album Red Pill Blues. They'll kick off a tour in support of the disc on May 30 in Tacoma, WA.
Copyright © 2018, ABC Radio. All rights reserved.