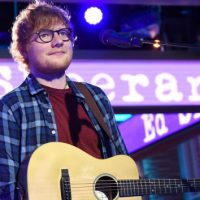 ABC/Paula LoboEd Sheeran is once again using his celebrity power for good.
U.K.'s The Independent reports the singer has donated a signed guitar to the family of a terminally-ill young fan, in order to help them raise money for their legal battle over the little girl's medication.
Ed first met 11-year-old Melody Driscoll, who suffers from the genetic brain disorder Rett syndrome, in November 2016. Since then, he's kept in regular contact with her and even performed a private concert for her before his show at the O2 Arena in London last year.
"They have a really close relationship. Ed sends Melody video messages and he bought her an iPad so she can listen to his music," Melody's mom, Karina Driscoll, tells The Independent.
The Driscolls are currently trying to raise nearly $70,000 to help with their legal battle with King's College Hospital in London. The family claims doctors withdrew Melody's medicine over fears it could cause damage to her liver, but that decision has left her in extreme pain.
The family argues she should be allowed to take the pain medication to improve her quality of life during whatever time she has left. They say Ed's kind gesture will help them raise the money they need.
"For him to reach out and offer to help us raise money to make sure she has the best quality of life we can give her is an absolutely amazing gesture," Karina says.
Copyright © 2018, ABC Radio. All rights reserved.