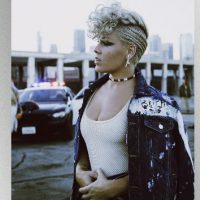 Ryan AylsworthPink kicked off her Beautiful Trauma tour Thursday night, and now she's giving fans a behind-the-scenes look at her life both on and offstage in a new video for her song "Whatever You Want."
In the clip, we see Pink at the MTV VMAs, in the studio, rehearsing for her tour and singing the national anthem at the Super Bowl. In between, we see her with her two children, Willow and Jameson, and her husband Carey Hart. There's also footage of Carey racing his bike on a motocross course, intercut with footage of Pink flying high over the audience at a show.
Pink's sold-out tour, her first in five years, wraps up June 1 in Los Angeles.
In other Pink news, she's one of a number of women on her record label, RCA, who'll be creating special playlists featuring female artists in honor of International Women's History Month.
Her playlist is up now, and features songs from legends like Janis Joplin, Dolly Parton and Joni Mitchell, '90s artists like The Cranberries, Fiona Apple, Indigo Girls and Sinead O'Connor, '80s icons like Madonna, Whitney Houston and Cyndi Lauper and current artists like Alicia Keys, Kesha and First Aid Kit.
Other RCA artists who are expected to participate throughout the month include Kesha, SZA and Becky G.
Copyright © 2018, ABC Radio. All rights reserved.