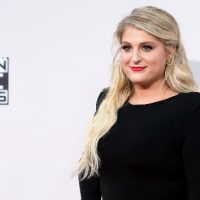 Image Group LA/ABCMeghan Trainor isn't pregnant – yet. But at Ellen DeGeneres' star-studded recent 60th birthday party, fellow guest Adele mistakenly thought the engaged singer had a bun in the oven.
"I wasn't drinking at the Ellen party and Adele's like, 'I think you're pregnant,'" Meghan tells U.K.'s The Sun. She clarifies, "I'm not pregnant, I just don't drink now."
Giving up alcohol is part of Meghan's new healthier lifestyle. She tells The Sun she eats a clean, no-sugar, low-carb diet now.
But back to the subject of babies: Meghan – who's engaged to actor Daryl Sabara — says she does anticipate the idea of having children early.
"My mom was a young mom," she says, adding that her mother had her at age 23.
"So I think it's in my head that I'm my mother's age when she had babies," she says. "I love how young she is with me and how we're best friends. I want that with my kids."
Meghan says she walked by a store diaper display recently and started crying.
"Daryl's like, 'You all right?' and I was like, 'I feel like we should be buying these,'" she says.
Copyright © 2018, ABC Radio. All rights reserved.