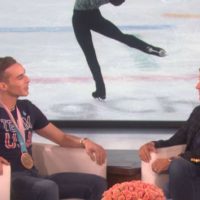 Ellen Digital Ventures | In partnership with Warner Bros. EntertainmentOlympic bronze medalist Adam Rippon revealed on The Ellen DeGeneres Show Thursday that love can be a fickle thing…at least when it comes to celebrity crushes.
The openly gay figure skater told Ellen that Shawn Mendes has replaced Harry Styles as the star he's currently crushing on.
"Here's the thing, I was sleeping on Shawn Mendes – not literally," he said, as the audience laughed. "I didn't realize how cute he was!"
He added, "I know Harry will be upset, but…I know, love is a funny thing."
Ellen suggested that, considering Harry and Shawn are both straight, perhaps Adam should try dating gay men instead.
"You're going to have a better shot at it," she said. "Just go for some openly gay men that look like them."
Adam previously admitted his Harry crush to UsWeekly, saying he "didn't realize that he was cute until One Direction broke up."
Copyright © 2018, ABC Radio. All rights reserved.