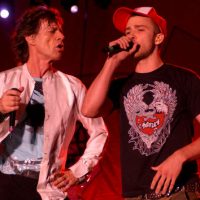 KMazur/WireImageOver the last 15 years, the Rolling Stones have invited some of today's hot young artists to either open for them, sing with them onstage, or both. As you might imagine, some of those performances were better than others. Turns out the band has very strong feelings about two of those artists in particular: Justin Timberlake and Ed Sheeran.
During a live Facebook Q&A hosted by the U.K.'s Clash magazine, Rolling Stones drummer Charlie Watts and guitarist Ronnie Wood discussed some of the artists they've shared the stage with. It seems Justin Timberlake's duet with legendary frontman Mick Jagger at a 2003 Canadian charity show left them unimpressed.
"Sometimes they can shrivel. That usually happens if they're singing with Mick," Watts said. "The great example was Justin Timberlake. Justin was great when he went on [and did his own set]…[but] when he came with us, he sort of shrunk…'cause [Mick] there — he seemed to shrink, somehow."
By comparison, Watts raved about Ed Sheeran, who opened for the Stones in 2015 at Kansas City's Arrowhead Stadium.
"When he played with us, I thought, 'This is gonna be a joke,'" said Watts. "'Cause it's a bloody great stadium in America…and he came on with his two amps and with [his loop pedals]…and he was great!…Everyone loved him. It was incredible, actually…he was amazing."
Ed also duetted with Mick that night; Watts didn't mention if he "shriveled" or not.
Even today, The Stones continue to support Ed. Last week, Ronnie Wood gave him a special trophy at the BRIT Awards. And in a new interview with the British paper The Telegraph, Stones guitarist Keith Richards says the only current artists he likes are Lady Gaga and Ed — about whom he says, "Nice voice, nice songs."
Copyright © 2018, ABC Radio. All rights reserved.