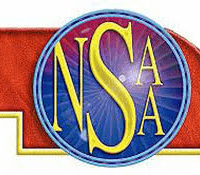 Fullerton and Riverside have joined Boone Central/Newman Grove as area boys' basketball teams that are headed to Lincoln for next week's state tournament.
In last night's district finals in Class D, Fullerton topped Heartland 74-64 and Riverside won 63-53 over CWC.  Humphrey St. Francis failed to advance to state, as the Flyers lost to Wynot, 55-45.  BC/NG qualified for state by winning a district title Monday night.
In next Thursday's state tourney quarterfinals, the number-6 seed Cardinals meet Broken Bow at 2 p.m. The game at the Devaney Sports Center will be aired on KZ-100.
Fullerton and Riverside will both have quarterfinal games at Lincoln Northeast.  The eighth-seeded Warriors battle top-seeded Kenesaw at 3:45 p.m. on 93.5 The Hawk.
The number-2 seed Chargers take on Wynot at 7 p.m. on KZ-100.