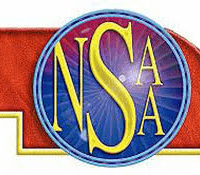 The subdistrict semifinals were played in boys' basketball last night.
In the C1-7 tournament, Lakeview was edged by number-one seed North Bend Central 57-51.  The Vikings' season ends at 4-19.  The Tigers improve to 21-3 and will take on Aquinas in Thursday's subdistrict title game on 93.5 The Hawk.
The Monarchs beat Scotus 42-25 last night.  The loss ends the Shamrocks' campaign at 8-15.  Aquinas improved to 14-9 with the win.  Tomorrow's subdistrict final tips off at 6 p.m. on The Hawk.
The C2-7 subdistrict semifinals took place at Aquinas Catholic High School.  Nebraska Christian shaded Twin River 52-20.  Cross County fell to top-seeded Centennial 43-25.  The Eagles and Broncos meet in the subdistrict final Thursday at 7 p.m. on KZ-100.
In other subdistrict semifinals, Boone Central/Newman Grove beat O'Neill 63-47, Central City fell to GICC 49-32, Howells-Dodge bowed to Battle Creek 60-51, East Butler over Omaha Christian Academy 46-31, Clarkson/Leigh lost to Walthill 58-50, Fullerton rolled over Palmer 75-28, Humphrey/Lindsay Holy Family edged Central Valley 69-66, Osceola lost to Exeter-Milligan 52-35, Humphrey St. Francis 76, St. Edward 20, and Riverside rolled to a 72-37 victory over Spalding Academy.