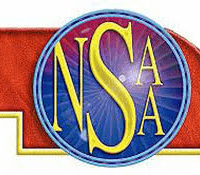 The Columbus High boys' basketball team fell to Aurora 64-55 in the B-6 Subdistrict tournament semifinals at York High last night.
Jaz Ackerson scored a team-high 17 points for the Discoverers, with Andy Pike adding 15 and Michael Koch chipping in 10.  But, Columbus likely ends its season with a 12-11 record.
The Lakeview boys' basketball team rallied for a 49-43 win over David City as the C1-7 subdistrict tournament opened.  The Scouts finish at 9-14, while the Vikings are 4-18.
Lakeview battles number-one seed North Bend Central in tonight's 6 p.m. subdistrict semifinal at Columbus High School.  It will be followed by Scotus and Aquinas.  You can hear both games on 93.5 The Hawk.
In the C2-7 subdistrict tourney at Aquinas Catholic High School, Cross County downed Shelby-Rising City 47-36.
Cross County meets top-seeded Centennial in tonight's 6 p.m. semifinal.  The nightcap pits Twin River against Nebraska Christian.  Both games will be aired on KZ-100.