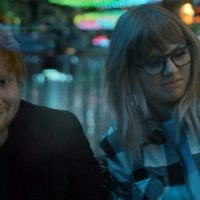 Courtesy BMLGLook what you made Taylor Swift do, Ed Sheeran.
In a behind-the-scenes clip from their "End Game" video shoot, Taylor reveals she specifically wore sneakers in her scenes with Ed…so he would feel taller.
The clip, posted to Instagram, begins as Taylor teases Ed for perching himself on the arm of the couch instead of sitting on her level. She accuses him of always trying to "elevate himself geographically" to seem better than her.
But Ed admits he's only trying to seem taller because Taylor wears "f****** heels all the time." At that point, Taylor lifts up her foot to reveals she's wearing flat sneakers.
"Look what I did for you today!" she exclaims, as Ed laughs.
Copyright © 2018, ABC Radio. All rights reserved.