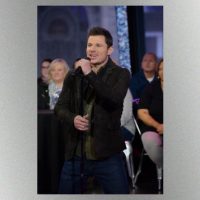 ABC/Lorenzo BevilaquaNick and Drew Lachey's Cincinnati sports bar, Lachey's, is closing its doors for good this Sunday.
The news was announced on the bar's Twitter page this week. Nick also took to his Facebook page to leave fans and customers a message of his own.
"It's been an incredible 3 Years full of lifelong memories," he writes. "Thank You Cincinnati for helping me realize a dream and the chance to share it with multiple generations of Lacheys and Lachey fans."
He adds, "We will be closing its doors after this Saturday night. Let's make some more amazing memories this weekend and send her out in style!!"
Nick and Drew had partnered with local company 4EG to run the bar. One of 4EG's principles, Bob Deck, explains to Cincinnati.com that the bar simply did not generate enough business to stay afloat.
"Lachey's was always packed for sports but unfortunately it couldn't survive on that business alone," he says. "It's always been a struggle to generate lunch business over there as well."
Last November, the bar made headlines after an employee was shot and seriously injured as she left her shift there. Nick and Drew held a 98 Degrees benefit concert to raise money for her recovery.
Copyright © 2018, ABC Radio. All rights reserved.