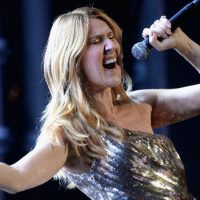 Photo by Jeff Kravitz/Getty Images via ABCCeline Dion is taking a break from her Las Vegas residency later this year to embark on a tour of Asia, Australia and New Zealand. In an interview with the New Zealand Herald, she explains why she decided on this change of "atmosphere."
"If it's only the fans coming here [to Vegas], they come here so much," she says. "I think it's my turn to visit you. After the holidays, they can save some money. I'm going to come to them, it's my turn."
She adds that, while she loves performing in Vegas because she can go home to her kids every night, she's ready for the change of pace that going on tour will bring.
"When you go in a theater, it's more classical, like an opera, but when you go on tour, it's rock 'n roll," she says. "It's very, very different. It's fun just to change the atmosphere, it's wonderful."
Whether in Vegas, on the road or otherwise, Celine says she always tries to maintain a positive outlook on life.
"I try to be very positive," she says. "I want my kids to be independent, thankful and positive. Positivity helps you find good stuff and what's right for you or wrong for you…Being positive makes you see better."
Celine kicks off the Asian leg of her tour on June 16, and heads to Australia on July 27.
Copyright © 2018, ABC Radio. All rights reserved.