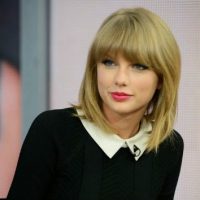 ABC/Ida Mae AstuteAs you may recall, Quincy Jones, the legendary, award-winning producer who brought us Michael Jackson's Off the Wall, Thriller and Bad, had some not-very-nice things to say about Taylor Swift's songwriting talent in a recent interview with GQ. Now, to add insult to injury, Jones is praising two of Taylor's pals as two modern artists he actually does like.
Speaking to Vulture, Jones once again expresses his disdain for modern pop music, saying, "It's just loops, beats, rhymes and hooks. What is there for me to learn from that? There ain't no f***ing songs."
Asked to name anyone who he believes is doing good work, Quincy says, "The Ed Sheeran record is great. Sam Smith — he's so open about being gay. I love it."
Jones also praises "Uptown Funk" producer Mark Ronson, as well as Bruno Mars, Chance the Rapper and Kendrick Lamar.
But once again, you may want to take what Jones says with a grain of salt. In the GQ interview, Jones said he didn't think Elvis Presley could sing. In the Vulture interview, he calls The Beatles "the worst musicians in the world," adding, "They were no-playing m******f***ers. Paul [McCartney] was the worst bass player I ever heard. And Ringo? Don't even talk about it."
Copyright © 2018, ABC Radio. All rights reserved.