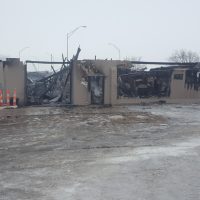 COLUMBUS- A Columbus building has been destroyed from a fire this morning.
Columbus and Duncan Fire fighters were called to the scene around 1:30am to the building owned by Stenger Plumbing. By 5:30am 35 fire fighters had the blaze under control but too late to save the building located on the southwest side of the viaducted near 8th Street.
No injuried were reported and the fire is under investigation by state fire marshals.