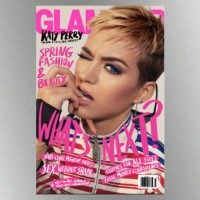 Emma SummertonKaty Perry is planning to have a family of her own one day, but before that happens, she tells Glamour she's preparing to do a "big soul overhaul."
"I want to emotionally elevate myself," she tells the mag in an interview with her friend, Cleo Wade. "I don't want to hold on to childhood trauma anymore."
The 33-year-old adds, "I want to grow into becoming an adult …. And that's the thing: I want to do a little bit more soul surgery before I have a family of my own so that I don't transfer any of those lingering feelings."
This year, as Katy prepares for more tour dates and the premiere of American Idol, she's all about finding balance between her career and her personal life. That includes turning off her phone one day a week, as well as resting, eating well and exercising.
"A lot of my early twenties were really intense, really extreme, and somewhat unconscious," she says. "It was all career focused, which was great, but once you touch the ceiling so many times, it's like, 'Oh yeah, I did that. I touched the ceiling.' Now I want to touch the stars, which has to do with the heart."
Katy has her music to help her along the way.
"I would say that all of my best songs, or what I think are some of my better songs — 'By the Grace of God,' 'Roar,' 'Firework' — are basically motivational pep talks to myself," she says. "They're my soul speaking to me, saying, 'Come on. We can do this. One foot in front of the other.'"
Copyright © 2018, ABC Radio. All rights reserved.