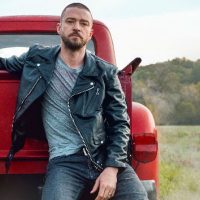 Ryan McGinleyJustin Timberlake followed his Super Bowl LLI halftime show performance with an appearance on a special Super Bowl edition of The Tonight Show, live from Minneapolis' Orpheum theater, where he performed songs from his latest album, Man of the Woods and joined host Jimmy Fallon for a segment called #Songversation.
The pre-taped sketch consisted of the two having a conversation during which they suddenly broke into song. The musical discussion included:
– What each of them were doing for the Super Bowl. Jimmy: "I made this seven layer dip that I found on Pinterest." Justin: "I'm performing on the halftime show." The two then sang, "We live two different lives."
– Setting up a play date at Chuck E. Cheese's, for which they discussed ski-ball strategy. "Don't go for the 100 point holes, better to play conservatively," croons Justin.
Later J.T. sat down with Jimmy to talk about the halftime show, in particular his habit of flipping the microphone during songs, which he admitted was "a nervous tic on stage."
"I don't know where I started doing that," added Justin, but "I haven't dropped it yet."
Timberlake also discussed his Prince tribute during the halftime show, which drew complaints from some people who noted that Prince — a Minneapolis native — didn't like posthumous tributes that use digital technology to create the illusion of performing with an artist from the past.
"I just felt like I wanted to do something for this city and something for him that would just be the ultimate homage to what I consider the G.O.A.T. [Greatest of All Time] of musicians," he explained.
Timberlake performed two songs from his new album. He opened the show with "Supplies," and dueted with country artist Chris Stapleton on "Say Something" to close the show.
Copyright © 2018, ABC Radio. All rights reserved.