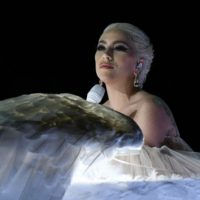 John P. Filo/CBSA year ago, Lady Gaga was dazzling the world with her Super Bowl halftime show. A week ago, she was singing at the Grammy Awards. But now, the singer has been forced to cancel her European tour dates because she's in too much pain to perform.
A statement on her official Twitter account reads, "Unfortunately, Lady Gaga is suffering from severe pain that has materially impacted her ability to perform live." The statement goes on to say that the star is scraping the final 10 dates of the European leg of her tour.
"She is extremely sorry and deeply saddened that she cannot perform for her European fans, who have waited so patiently," adds the statement, noting that Gaga is "in the care of expert medical professionals who are working closely with her so she can continue to perform for her fans for years to come."
In an additional statement, Gaga herself says she's "so devastated I don't know how to describe it," but adds that she knows that if she doesn't cancel, she is "not standing by the words or meaning of my music."
"I love you but this is beyond my control," she says. "I promise I will be back…but for now, I need to put myself and my well-being first. I love you, forever."
Last year, Gaga canceled a concert in Brazil for the same reason. She also revealed last year that she suffers from fibromyalgia, a disorder that causes muscle pain. Symptoms can sometimes begin after physical trauma or emotional stress.
Gaga is due to start a residency in Las Vegas in September of this year.
Copyright © 2018, ABC Radio. All rights reserved.