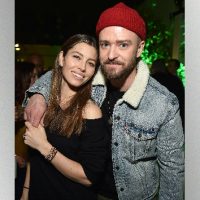 Kevin Mazur/Getty Images for American ExpressThursday night at Paisley Park, Prince's legendary complex in Minneapolis, Justin Timberlake hosted a listening party for his new album Man of the Woods. But that was just one of many star-studded events taking place in and around the city as it gears up to host Super Bowl 52.
The Minneapolis Star Tribune reports that Justin's party featured live music from Prince's band The Revolution. While he didn't perform himself — he's too tired from constant rehearsals for the halftime show — he and wife Jessica Biel danced and sang during the hour-long set, which featured hits like "Purple Rain" and "Let's Go Crazy."
Justin told the 500-strong crowd, "This place has the best speakers in the world. I just had a birthday yesterday. This is my birthday present. I can't believe this is happening at the world famous Paisley Park. I love you, Prince." The paper reports that party also featured a booth pressing vinyl 45s of JT's single "Filthy," and one printing customized Man of the Woods t-shirts for guests.
Also on Thursday night, the paper reports, Sting performed for NFL owners in St. Paul, Minnesota, while The Chainsmokers played a gig at a nearby casino. Imagine Dragons, rap trio Migos and rapper Machine Gun Kelly performed a massive gig hosted by EA Sports.
Other headliners expected to take the stage throughout the weekend at various promotional parties and ticketed events include national anthem performer Pink, plus Jennifer Lopez, Kelly Clarkson, Florida Georgia Line, Gwen Stefani, Jamie Foxx, G-Eazy and Snoop Dogg. Sting will return to perform at Sunday's NFL Tailgate Party concert, along with Hootie & The Blowfish frontman Darius Rucker.
And of course, JT will take the stage for the third halftime performance of his career — and that's a record for an individual performer, according to the NFL.
Copyright © 2018, ABC Radio. All rights reserved.