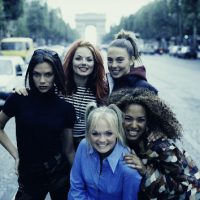 Tim Roney/Getty ImagesHey, Spice Girls fans — "Wannabe" really happy? Then take a look at the first photo of all five Spices, together for the first time in the same room since 2012.
The British paper The Sun reports that all five members met up at Geri "Ginger Spice" Halliwell's home, along with their former manager, Simon Fuller, who went on to create a little show called American Idol.
Victoria "Posh Spice" Beckham captioned the photo of the women with Fuller, "Love u all so much!!! X Such a great day!! Thank u Simon!" The snap of the five women together was captioned, "Love my girls!!! So many kisses!!! X Exciting x #friendshipneverends #girlpower."
But why are the Spice Girls all together at this point? The Sun reports that they're reuniting for "new projects," and Beckham, previously a holdout, has agreed to join because she's allegedly been assured she won't have to sing.
In a statement, the group says, "We have enjoyed a wonderful afternoon catching-up and reminiscing about the amazing times we have spent together. We are always overwhelmed at how much interest there is across the whole world for The Spice Girls. The time now feels right to explore some incredible new opportunities together."
The statement adds, "We all agree that there are many exciting possibilities that will once again embrace the original essence of The Spice Girls, while reinforcing our message of female empowerment for future generations."
The Sun claims each member of the group will receive about $14 million each for her participation, and among the ventures being considered are TV projects in China, a new TV talent show, endorsement deals and a greatest hits compilation album.
Copyright © 2018, ABC Radio. All rights reserved.