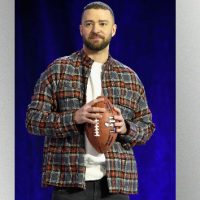 Kevin Mazur/WireImageThe title of Justin Timberlake's new album Man of the Woods, which is out today, was inspired by his son Silas, whose name means "of the woods." But Justin says he doesn't really want to contemplate his son following in his footsteps and becoming a musician himself just yet.
"I'd rather not think about it 'cause he's about to turn three," Justin told reporters at a Minneapolis press conference on Thursday. After joking about his son's ability to quickly cover 100 yards on the field, Justin was asked if he'd be OK with Silas becoming, not a musician, but a football player.
"Um, he will never play football," Justin said, and then — perhaps realizing that he's working with the NFL — quickly added, "No, no, I mean my main objective is that he become a great person. And if he wants to get into the arts or sports, then yeah, I would fully support that."
"I think I can hopefully offer him some advice on what to do and what not to do," Justin added. "But right now we're working on our manners. That's a big deal in our house right now." He laughed, "It's like, one thing at a time."
Justin also named Silas as one of his main inspirations in life, and the thing that keeps him going.
"I mean, my family, I would have to say," he told reporters. "I think my son and my wife…my mom has always been a big grounding force in my life, and now to have a family and to think about how my son will live in this world, I think that that's the biggest factor."
"That and Tom Brady," he cracked. "Tom Brady's hair mostly. He's got great hair."
Watch Justin rock the stage Sunday night as the Pats take on the Eagles on NBC.
Copyright © 2018, ABC Radio. All rights reserved.