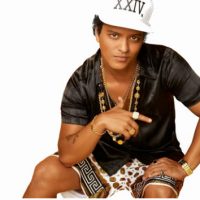 Kai Z. FengLooks like Bruno Mars is following up his big Grammy night with a new tour, one that will feature his "Finesse" duet partner Cardi B.
No official announcement or list of dates yet, but in a series of tweets Thursday night Bruno wrote, "What if I told you I wanna do one more U.S tour so we could celebrate 24k Magic together one last time….."
He added, "Annndddd…what if I told u imma bring my lil sis @iamcardib on tour so we can really turn your city upside down! Make this finale a party!!"
Bruno won all six Grammy categories in which he was nominated Sunday night, including sweeping the night's biggest prizes — Record of the Year, Song of the Year and Album of the Year.
Copyright © 2018, ABC Radio. All rights reserved.