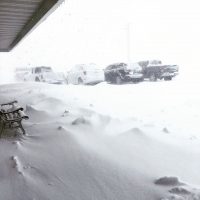 COLUMBUS- On Tuesday, the city of Columbus issued a statement on the recent snow removal process of the blizzard last week.
Here is an official statement from the city.
Yes we at the City are well aware that a lot of the side streets were not in good shape.  Yes, some of the main streets at times were not completely clear at times.
With the wet and heavy snow, wind and the prior rain, this snow event had it challenges to say the least. I'm not sure some people understand this when it comes to the cleanup, the traffic, daily freeze and thaw cycle and people pushing snow back into the streets from private drives and sidewalks
With that being said I would like to say thank you to the citizens that have been patient and understanding. To the rest I hope the following will help you understand we did the best we could with what we have.
Not to make excuses, can we make change to improve, yes we can and will. Factor in that we have had several new personal added. This did slow us down and cause us to miss a few streets. It is hard to train new employees on snow removal with no snow. That is pretty much hands on training and I think that has been completed now.
The City has 500 + lane miles to clean and maintain within the city as well as Lost Creek Parkway.
We had over 50 pieces of equipment out dealing with the snow event. From front end loaders, road graders, snow plow trucks, Backhoes, tractors with push blades and skid loaders. At one time we had 10 pickups with snow blades out just trying to push the slush and snow pack breakup of the streets. Giving the fact that the street Department has only 19 employees, you can see we had pulled employees from all other departments (Golf, Water, Sewer, Parks, Waste Treatment, Transfer Station, Water Production as well as Cemetery Department) that we could to put equipment on the streets.
The hard snow pack and the freeze and thaw cycle was the most difficult to deal with, the snow pack is very hard to cut. The only equipment that we really have that can work hard snow pack is the 4 road graders we have in the fleet, due to the size, power and the ability to pitch the blades operators are able to cut most of the snow pack off. The down size is the slow pace that this equipment moves due to its size. Working around and with traffic and parked vehicles on streets is also a challenge.
Crews are still cleaning up areas that can only be done with loaders and snow must be hauled out by trucks, such as cul-de-sacs and dead ends.
With warmer weather predicted today and tomorrow staff will be running the routes in the later afternoon and evenings in an effort to clear and clean-up the remaining snow pack.
To be honest, yes the city could change policy to address the complaints, buy more equipment, and hire more employees. It is possible, at a cost. The city could enforce a no parking band that leads to tickets, towing cost and impound fees paid by the owners of course. Increase in taxes to pay for more equipment and personal. Also the cost of adding staff to enforce new snow polices to provide a service that is most likely only needed every 4-5 years for one or two snow events. It seems hardy fair or makes much fiscal sense.
If you feel your street has been missed or not been hit with a scound or third round please call and let us know, in a calm and polite manner please! The city will have staff look at the complaint and take address of it. You may call the following, 402-562-4260 0r 402-562-4253.