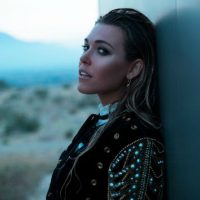 Sarah Barlow + Stephen SchofieldNew Year, new you: It's 2018, which means it's time to actually start following those New Year's resolutions you made a couple days ago. But what if, instead of resolving to change things once a year, you turned it into a year-long process? That's what Rachel Platten says she tries to do.
"Yes, I have some [New Year's resolutions], but I do them all the time," she tells ABC Radio. "I write in journals, I have therapists, I'm, like, constantly working on myself! I don't really believe in doing them one day a year."
Rachel released her sophomore album Waves last year and, as you may have been able to tell from the honest, personal and soul-searching lyrics on the disc, she's thought a lot about her good and bad qualities, and how they impact other people.
"I try to kinda self-correct all the time," she explains. "And if I find myself not living my core values, I try to, like, kind of check in, get quiet and see how I can fix it."
Rachel had an eventful 2017: not only did she release a new album and perform at major events like the Miss Universe pageant and the Glamour Women of the Year awards, but she also did lots of charity work, and became an aunt for the first time. So far, she hasn't announced a 2018 tour, but stay tuned.
Copyright © 2018, ABC Radio. All rights reserved.