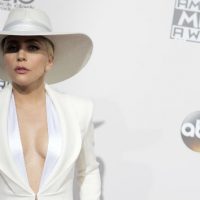 Image Group LA/ABCLady Gaga conquers the Super Bowl, then gets sidelined by physical pain
Lady Gaga dove right in to 2017, literally. She kicked off the year — and her Super Bowl halftime performance — by jumping from the top of NRG Stadium. Her 13-minute, seven-song performance featured flames, fireworks, dancers and costume changes, as Mother Monster delivered a medley of her hits that included "Born This Way," "Poker Face," "Just Dance," "Telephone" and "Bad Romance." The halftime show went on to receive six Emmy nods.
While the ratings showed that the halftime show as the second most-watched ever, just behind Katy Perry's 2015 show, the NFL claimed that it was the most-watched musical event of all time. Counting digital platforms, the NFL said it reached more than 150 million unique people.
Gaga then embarked on her Joanne World Tour, but had to postpone some dates due to chronic physical pain. The singer revealed that she suffers from fibromyalgia. She detailed her struggles, both personal and professional, in a Netflix documentary called Lady Gaga: Five Foot Two, which debuted September 22.
In November, Gaga received two Grammy nominations for Pop Solo Performance and Best Pop Vocal Album. During 2017, Gaga also filmed her feature film debut in the fourth remake of A Star Is Born, opposite Bradley Cooper. It's due out in October of 2018.
Adele's tour comes to a disappointing end
Adele cleaned up at the Grammys this year, becoming the first person ever to win Album, Song and Record of the Year twice. In her speech for Album of the Year, Adele tearfully said she felt Beyonce's Lemonade should have gotten the award instead.
In June, she was set to wrap up her 25 world tour with four dates at London's Wembley Stadium, but she was forced to cancel the last two shows after damaging her vocal cords.
"To say that I am heartbroken would be a complete understatement," Adele said in a statement. "You know I would not make this decision lightly."
Bruno Mars made 24K Magic everywhere he went
After releasing his long-awaited new album 24K Magic in 2016, Bruno Mars spent most of 2017 on tour, and managed to end up one of the top artists of the year.
In January, the album's second single, "That's What I Like," was released and became his seventh #1 hit. In February, Bruno wowed the crowd at the 59th annual Grammy Awards by performing "Let's Go Crazy" in tribute to Prince, while dressed as the late, legendary performer.
While on tour, Bruno had the thrill of seeing Michelle Obama attend one of his concerts, and meeting legendary pro wrestler Bruno Sammartino, the man who inspired his nickname, backstage one night. In August, he received the 2017 Visionary Award at the Teen Choice Awards, and James Corden named him as his all-time favorite Carpool Karaoke guest. Also in August, he donated $1 million from the ticket sales of his show in Michigan, to help the victims of the Flint water crisis.
In October, Bruno was nominated up for NAACP Entertainer of the Year at the 49th NAACP Image Awards, which will air January 15. In November, Bruno was named Artist of the Year at the American Music Awards, and won five out of the six Soul Train Awards he'd been nominated for. He also starred in his own CBS-TV special, Bruno Mars: 24K Magic Live at the Apollo.
Finally, in November, Bruno was one of the top nominees for the 60th Annual Grammy Awards, scoring six nods, including Album, Record and Song of the Year.
Shawn Mendes: From teen idol to Adult Contemporary star
Shawn Mendes started his career as teen idol with young female fans, but in 2017, he proved that his singer/songwriter sound, heavily influenced by John Mayer and Ed Sheeran, appealed to adults as well.
In November, 19-year-old Shawn became the youngest person ever to score three #1 songs on Billboard's Adult Contemporary chart when he reached #1 with "There's Nothing Holdin' Me Back." Prior to that, he hit #1 in early 2017 with "Treat You Better," and in 2016 with "Stitches." He's the only person to accomplish this feat before the age of 20. He also set the same record on Billboard's Adult Pop Songs chart, with the same three songs.
Also in November, Shawn was named Favorite Adult Contemporary Artist at the American Music Awards. He spent most of the year on tour in support of his sophomore album, Illuminate. It wrapped up December 18 in Tokyo. During an Instagram Live chat with his pal John Mayer, Shawn announced that he'd be playing festivals in 2018. He's also working on his third album.
Copyright © 2018, ABC Radio. All rights reserved.