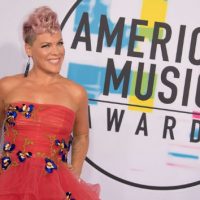 ABC/Image Group LAPink isn't shy about admitting the challenges of motherhood, and her fans clearly appreciate that. The singer shared an emotional exchange she had with one fan and fellow mom who admires her honesty.
"A really sweet Mama came up 2me tonight at the grocery store and told me some nice words about how she gets strength from my parenting cause I'm not afraid to f*** up in public," Pink wrote on Twitter. "We cried together. It's so hard."
She added, "Y'all. I wish us mamas could give ourselves and each other a break."
Pink and husband Carey Hart are parents to six-year-old Willow and one-year-old Jameson.
Before Christmas, Pink revealed one of her "mom fails." She shared a note written by Willow to Santa asking why her Elf on a Shelf, named Chippy, hadn't moved in three days.
"Santa, I am worried about Chippy, he has been in the same spot for 3 days. I don't know why," her daughter wrote.
Pink captioned it, "Translation: MOM FAIL."
Copyright © 2017, ABC Radio. All rights reserved.