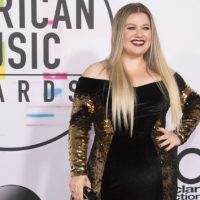 ABC/Image Group LAKelly Clarkson is heading to the Golden Globes next month.
The singer has been announced as one of the presenters at the January 7 ceremony. It's not yet clear which award Kelly will be presenting.
Ricky Martin will also be presenting, along with Amy Poehler, Gal Gadot, J.K. Simmons, Penelope Cruz, Seth Rogen, Kerry Washington and Hugh Grant.
Kelly and Ricky's fellow pop stars Mariah Carey and Nick Jonas scored nominations this year in the category of Best Original Song from a Motion Picture. Mariah is nominated for "The Star" from the animated Christmas movie of the same name. Kelly voiced one of the characters in that movie. Nick is nominated for "Home," from the animated flick Ferdinand.
The 75th Golden Globes will air on NBC with Seth Meyers as host.
Before her awards show appearance, you can catch Kelly this coming Sunday on Dick Clark's New Year's Rockin' Eve with Ryan Seacrest.
Copyright © 2017, ABC Radio. All rights reserved.