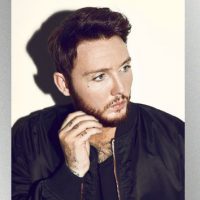 Olaf Heine2017 was James Arthur's breakthrough year in the U.S. He toured with OneRepublic, was nominated for an American Music Award, and scored a three-times platinum single with "Say You Won't Let Go." But asked to name a single highlight of the past 12 months, James says it's really hard to choose.
"I can't! There is so many this year," he tells ABC Radio. "I mean, multiple TV shows that I kinda looked at from afar and thought, 'Wow, I don't think I'll ever make it to that stage' — Jimmy Fallon, Ryan and Kelly and the Today show, all these huge shows in America."
That's not all: James also made appearances on America's Got Talent, Good Morning America, The Talk, The Late Late Show with James Corden and more. But it's one of his live performances that James says comes to mind when he thinks of the best moment of 2017.
"Performing a sold out show at Wembley [Arena in London] was maybe the highlight, if I had to put my finger on one thing," he says. "But yeah, it's been a great year for me."
Looking ahead to 2018, James plans to release new music, but he also has a very specific New Year's resolution.
"I think I need to continue to be a positive and calm person," he tells ABC Radio. "That's kinda the only thing that I wanna achieve…and get a six-pack. That'd be good."
He laughs, "I wanna get a six-pack before I'm too old to get a six-pack!"
Copyright © 2017, ABC Radio. All rights reserved.