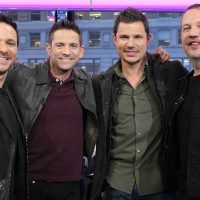 ABC/Lorenzo Bevilaqua98 Degrees' Christmas albums have become part of their fans' holiday celebrations, and now the group wants to add another tradition to the mix.
Drew Lachey tells Billboard they'd like to make their holiday tour "an annual thing." They just wrapped their first Christmas-themed tour on December 23.
"The response has been fantastic and we love it, so, maybe a 98 Degrees Christmas show every year," Drew says. "Maybe it can become a holiday tradition for people."
He says that the group – which also features his brother Nick Lachey, Jeff Timmons and Justin Jeffre – is also considering recording a new, non-holiday album. It would be their first since 2013's 2.0.
"I think with age comes perspective and, honestly, we're having more fun and appreciating each other more now than we ever did in our twenties," Drew says.
He adds, "We've all got individual projects and aspirations we're trying to accomplish and achieve, but we've been able to find the balance where we're able to do our own thing and then come back and do [98 Degrees]. It makes us stronger and better performers when we do come back together."
In addition to the Christmas tour, in 2017, 98 Degrees released the holiday album Let It Snow, and Nick competed on ABC's Dancing with the Stars with wife Vanessa.
Copyright © 2017, ABC Radio. All rights reserved.